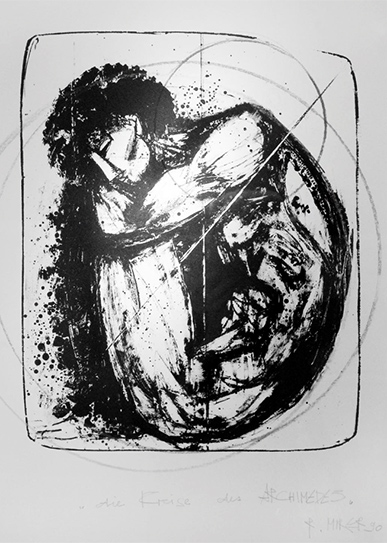 "Archimedes' circles" by R. Mirer






Professional background



Primary teacher
I qualified as a primary school teacher at Zurich University of Teacher Education.

Music therapist
I am qualified music therapist (Swiss Federation of Music Therapists) and use piano improvisation as a nonverbal medium of communication. Teaching therapists: G.K. Loos, R. Flatischler, F. Hegi. Areas of practice: child therapy; young persons, adults, and cancer patients with impairments and special needs. International speaking engagements and workshops.

Psychologist and Psychotherapist (Federation of Swiss Psychologists)
I studied pedagogical psychology, psychopathology, and music ethnology at the University of Zurich and earned a PhD in 1994. I was also interested in C.G. Jung`s Analytical Psychology, body psychotherapy, and transpersonal psychology. Important teachers: H.S. Herzka, G. Leyting, S. Hürlimann.

Since 1998, I have served as Head of Psychooncology, Department of Oncology and Hematology, St.Gallen Cantonal Hospital (T. Cerny, Ch. Driessen). Multidimensional approach to therapy, including depth psychology and experience-based techniques (music-assisted active imagination, active imagination, trauma therapy, family therapy, body-centered therapy) combined with spiritual care.

A Swiss psychotherapist discusses optimal palliative care: A conversation with Monika Renz. Interview by R. Piana. ASCO Post (2015, Dec 10). open weblink.

More to read at Therapy, End-of-Life Care, Spirituality and Oncology St. Gallen

Theologian
I have always been interested in spirituality and religion and studied theology at the universities of Innsbruck and Fribourg. I taught "Spirituality and Music" at the Department of Theology, University Zurich (1998-2002). Important teachers: M. Küchler, R. Siebenrock, A. Schenker, A. Holderegger, P. Zulehner. Several internships in pastoral care. PhD in Theology (2008). Besides my role as Head of Psychooncology at St.Gallen Cantonal Hospital, I have also been active in pastoral care and parish coaching.

Core theological themes: Spirituality and spiritual experiences, seeking God in suffering, depth psychology, and exegesis (similar to but different from E. Drewermann). Jesus, experiences of identity in the covenant with God. I taught a course on "God in suffering and dying" at the University of Innsbruck in 2007.

One of my chief interests-I would even call it a guiding theme of my life-is to understand human modes of perception in liminal states and to learn more about life from persons with such experiences. This includes ways of perception at the beginning of individual human life and how people approach this state again later in life, for example, in deep dreams. We also touch on this state in the process of dying, in deep life crises, or in near-death experiences. What the dying experience as a different mode of perception, as well as their accounts of such experiences, has helped me to discover a new approach to many religious writings and their symbolic language since people probably lived closer to this mode of being and perception when it originated than we do today. This key idea led me to a scientific position that combines psychology and religion.

1994, PhD thesis in Psychopathology (Prof. Dr. med. H.S. Herzka).

2008, PhD thesis in Biblical Studies (Prof. Dr. M. Küchler).

The subjects that I cover in my workshops and public speaking engagements are still expanding. Topics include spirituality and mysticism, dying, primordial fear and primordial trust, forgiveness and reconciliation, experiences of dignity in suffering, opportunities for becoming essential.

More to read at Talks and Workshops, Publications and Research and News

Leisure activities: Positive and inspirational human encounters, playing and enjoying music, walking my dog out in nature, searching for "religio" (Latin for religion, i.e., "being connected" and "reading over again").




More information at
www.kssg.ch/onkologie/